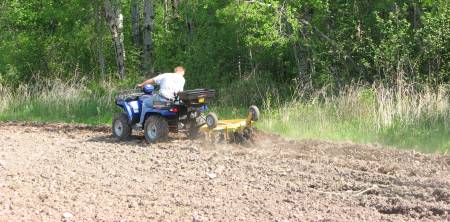 There are as many different kinds of food plot mixes on the market as there are days in a year, but a lot of people do not realize that the best food plots for white-tailed deer actually grow naturally! In my opinion, natural foods are the best food plots.
I guess by definition what I am writing about today can not really be considered food plots, but more like techniques to provide additional foods for deer. But I believe habitat management is the first step in deer management!
Disking– This is a simple technique that can be implemented (get it) during both the spring and fall. There is nothing magical about how disking works. The only thing necessary is that you use a disk to disturb the surface of the soil so that forb seeds can become "exposed" and germinate.
To promote warm season forbs for deer, disk the selected area before spring green-up. To promote cool season food plots simply disk the area where you would like your native food plot to be during late summer. In addition, to promote more edge and diversity you can alternate disked and undisked strips (strip disking). Continue reading "The Best Whitetail Deer Food Plots"