The white-tailed deer hunting seasons are just months away, which means hunters will begin making their final preparations for the fall. With summer heading into the home-stretch, hunters remaining tasks include the addition of new spin-feeders, the replacement of old stands with new ones, the clearing of shooting lanes, conducting deer surveys and a review of the whitetail hunting regulations for their area. In Texas, one of the most discussed deer hunting regulations continues to be the antler restriction regulations that are in place for bucks in many counties.
Regulations. It's a safe bet that most hunters are not old enough to remember a time when there were no deer hunting regulations, before there were seasons and limits for specifically for whitetail. One can only imagine the outrage of hunters, commercial ones included, when some well-meaning game biologist came along and suggested that the harvest of wild animals be managed through regulations. I bet a good number of hunters wanted to tan his hide along with the other skins salted down around back. Fast forward to modern times and it's easy to see (and hear) that some things never change.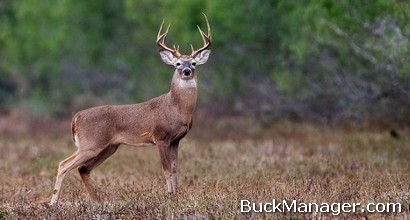 In Texas counties with antler restriction regulations, only two legal bucks exists: those with at least one unbranched antler and those with an inside spread of 13 inches or greater. Antler restrictions get talked about quite often because, well, it can be darn difficult to estimate the inside antler spread of a buck in the field. This is the toughest part of the regulation; the antler spread of many bucks will be close to 13 inches, but no hunter wants to come up short when a warden puts a tape to it. Many hunters have suggested using regulations based on points, such as three or four antler points per side, but this does not work. For those wondering why, take a look at the response from Texas Parks and Wildlife Department after a regular reader of this site recommended a point-based antler regulation:
"I appreciate your comments. One thing this is unique about the Texas antler restriction regulation is that it is designed to eliminate the risk of high-grading bucks. Point restrictions certainly could result in high grading. For example, a rule allowing only bucks with 4 points on a side to be killed is allowing for the harvest of the best yearlings and protection of the poorest-quality yearlings. The reason for this is that there is no correlation between age and number of points.




However, there is a very strong correlation between age and inside spread. That's one reason why we went with the spread restriction. Another unique aspect of the Texas model is the "slot limit" (i.e., it allows for the harvest of deer with at least one unbranched antler) — further reducing the risk of high grading. Nonetheless, this regulation does indeed protect some mature bucks with narrow spreads, which is an unintended consequence.

But the good news is that only 4 percent of all mature bucks in these Resource Management Units (RMUs) have an inside spread less than 13″ wide (based on data from thousands of harvested bucks). And long-term research has shown us that the bucks with at least one unbranched antler are more likely to be those narrow-racked bucks at maturity. So it would behoove hunters to take advantage of that second buck tag (for spikes and 3-pointers)."
I dislike being managed and regulated as much as the next guy, but most of the regulations in my life seem to be working out okay. They are not overly intrusive. I don't like it that I can not legally drive my truck as fast as I would like, but I do appreciate the fact that neither can the other idiots on the road. Safety first. I also like the fact that the Food and Drug Administration (FDA) is keeping the foods I eat safe for the most part. That's good for the family. I guess deer hunting regulations, possibly even antler restrictions, are something that will always be a part our lives.
If all these regulations ensure that we will be around with some number of deer to chase, then so be it. Regulated hunting through limits and seasons are a component of any state's deer management program.  I have, without a doubt, observed larger and older free-ranging bucks in areas after antler restriction regulations were implemented. Additionally, most of testimonials I have received on the subject of the antler restriction regulations in Texas have been positive, but there will always be  unhappy campers with any regulation, hunting or otherwise. Of course, I suspect that if all deer regulations were removed and white-tailed deer had no bag limit and no closed season, a small percentage of hunters would actually be happy, but the majority would not. What do you think?