A big part of deer management is maintaining promising bucks in healthy condition until they are mature and ready for harvest, so there is nothing worse than finding a dead buck that you did not shoot, but how would you feel if you found not one, but three dead bucks on your property? Okay, it gets worse. What if those three bucks totaled 450 inches of antler? That is exactly what a hunter in the mid-West found on his Ohio farm while walking through the woods. Apparently, two bucks were fighting for the right to breed area deer when a third buck jumped in to kick both of their butts. That didn't happen.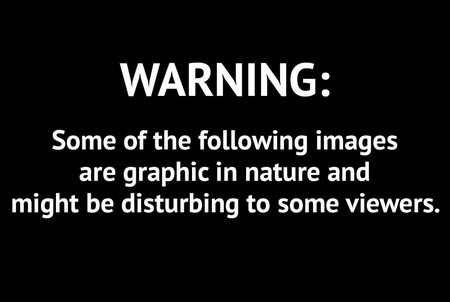 The three whitetail bucks were found dead, drowned in a creek on the Ohio property. This is not the first time three bucks have locked horns and died, but it's the first I've heard about this phenomenon year. And the quality of the bucks involved is impressive, so you know the guys hunting this property had to have been more than a bit deflated. I know that I would have been sick to my stomach. Here is what a staff member of the Ohio Department of Natural Resources wrote after being called out on the 3 dead bucks:
"Wow, 3 bucks locked together, wow! Wish I could have walked up them alive. This is the result of three bucks all fighting for one lady. They had the bank of this creek all tore up. All together, I estimated the deer to score well over 400 inches of antler. The biggest one was a massive 6×5, approximately 165 inches. The other two were around 130 to 140."

The bucks were all green scored and the 9 point went 130-ish, the 10 point went 140-ish, and the big 11 point went 169 inches. It looks like the young guns will get to do the breeding on that Ohio property this year. That is why it's important for anyone serious about deer management to keep quality bucks of all ages on a property at all times. Simply amazing!