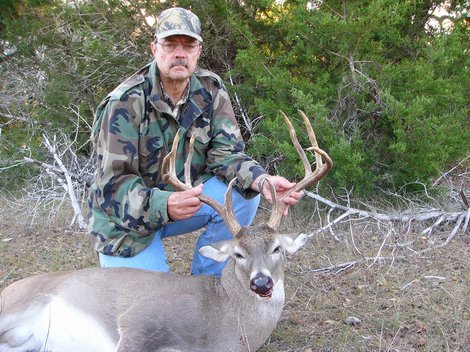 Texas' General Deer Hunting Season opened over the past weekend to warm weather. As expected, hunters that took to the field reported seeing fewer white-tailed deer than expected and very little rutting activity. I had reported that deer were rutting in the Hill Country early last week and they still are, but the increase in temperature has really slowed the deer down. Bucks will really respond to cooler weather and even yesterday morning with temperatures 10 degrees cooler than over the weekend, I spotted one buck chasing a doe and the lucky hunter below did, too!
The peak of the Hill Country rut usually occurs just before mid-November, so expect the next good cold front to really set the deer on fire. But, if you haven't seen many deer in your area you are not alone. Many locker plants reported a lower number of deer being dropped off for processing over opening weekend. To make matters worse, in those areas that received lower than average rainfall this year, hunters are reported bucks average to below average antler conditions with respect to age. Cooler weather may not increase antler quality or the total number of deer in your area, but it will help you see them.
The 8-point buck below was harvested on November 3 at 8:00 am in the eastern portion of the Hill Country and the hunter reported that the buck was chasing a doe. The 4 1/2 year old whitetail buck had an 18-inch inside spread, gross scored 130 Boone and Crockett points, and had a live weight of 169 pounds.