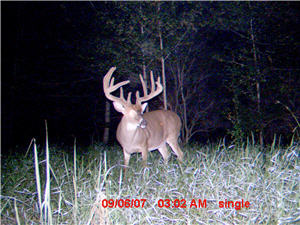 As long as I have been fascinated with deer and deer hunting I have wondered about those big nocturnal bucks that walked across the land where I hunted. That was even before I knew "nocturnal" was a word and what it meant . Today, we don't have to worry as much about the big whitetail bucks that might be out there because game cameras help us do a much more thorough job of scouting. I said "as much," because there always seems to be bucks that elude everything. 
Using a game camera can be fun and exciting, but looking back my first couple years of using a camera was not at all what I had hoped it would be. Sure, I saw some bucks. Some better than what I had seen during daylight hours, but nothing like the images that haunted my dreams.
The camera proved time and time again that the same spike, 8-point buck, 5 does, and 3 fawns visited the feeder everyday at about the same time. In addition, an occassional "rogue" buck or two would be spotted overnight, but nothing to write home about. As it turns out, there really weren't any magical bucks that sneaking through the habitat found on the property. The bucks I thought were there were not. 
Then I thought about it. If I am not getting photos of quality bucks a night then there are not any quality bucks to be found. It's not that I am not seeing them, it's just the simple fact that these bucks are not there! The fact of the matter is if you (like me back then) aren't seeing any good bucks on your trail camera, then it's not that you're having a problem seeing the bucks, it's just that they don't exists. They aren't on the property.  
In this case, what you have is a deer management problem.
Sure, you can use your game camera photos to estimate buck to doe ratios, fawning success, and the quality of the bucks on your property, but it also gives you snap shot after snap shot of what your overall management plan (or lack thereof) is doing for you.
Not even the best camera can find something that is not there. Later this week I will talk more about game cameras and even hand out a few more game camera tips for keeping track of your white-tailed deer. Until then, keep your hooks sharp and your ammo dry.