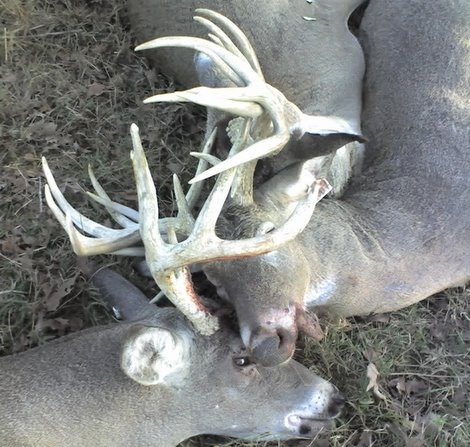 Just about every deer hunter has heard stories about or has even seen, maybe even found, two white-tailed bucks dead after their antlers ended up getting "locked up" during a fight. It's just not that uncommon for bucks to get their antlers locked together while fighting. However, slim to none have heard of three bucks after becoming locked! As rare as it may be, check out the photos of these three white-tailed bucks that were found locked during the rut.
The bucks were located on a ranch in East-Central Texas and from the information that I received one of the bucks was still alive when the trio was found. Apparently, the antlers were cut from the dead deer and one very tired buck was lucky enough to run back off into the woods. He was probably greeted by another ornery buck looking to kick his butt yet again.
The urge to breed is a powerful one. It seems plausible that two bucks would fight for the the breeding rights to a doe or to an area, but it's wild that another buck would pile on, too. Whitetail bucks must just be pumped full of testosterone just prior and during the rut. Don't get in their way. You just never know!