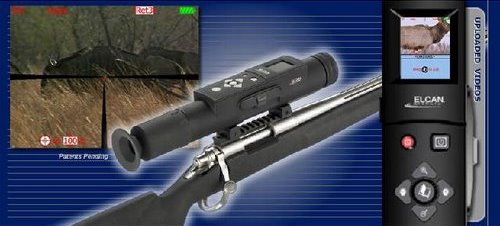 ELCAN Optical Technologies has a rifle scope equipped with camera and video capabilities that photographs or videos automatically when you pull the trigger! In addition, the digital scope can be used to take a picture or video of whatever it is you are looking through your scope without pulling the trigger. Today, we are specifically talking about the:
DigitalHunter DayNight Digital Riflescope by ELCAN Optical Technologies.
We all know the effort it takes to video our own rifle hunts. It's not easy! But what if you could easily and efficiently record exactly what you see? That's what this scope can do for you – it records while you shoot so you can review shot placement and document the harvest in general.
As great as this scope sounds, it's not for everyone. First, you need to be a tech-nically able hunter. If you don't like computers, file transfers, and gadgetry, this is NOT going to be for you. In addition, the scope is going to cost two to three times the price of most rifles.
With that said, you can get all the information you need about the ELCAN Digital Hunter Rifle Scope, including many more photos and actual scope-taken photos and video at TexasHuntFish.com.