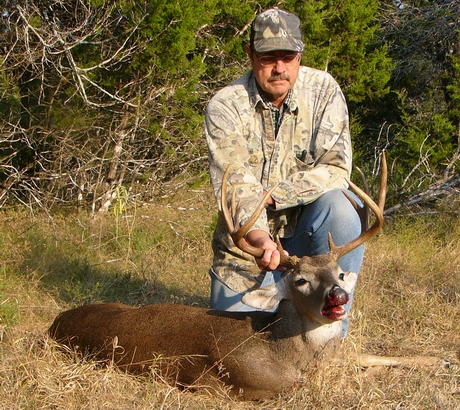 Habitat conditions throughout most of Texas this year were in excellent condition thanks to the abundant rainfall we received throughout spring and summer. The plentiful rain translated into great warm-season forbs and browse production, which in turn put Texas' white-tailed deer herd in outstanding condition. Bell county was no exception. Although conditions were not ideal for hunters heading to the field for the General Season opener (due to mild temperatures), that didn't deter one Bell County hunter.
Opening morning didn't bring the big boy out, but Sunday, just after 9:00 am, he saw this main-frame 8 point buck with split G2s step out that gross scored 130 2/8 Boone a Crockett inches, and that was enough reward for enduring the near 90 degree weather on Saturday. The buck's main-frame 8 point rack grossed 119 2/8 inches and the buck had 11 inches of non-typical antler due to the split G2s.
Good habitat conditions, good body conditions… make for a nice 10 point buck!