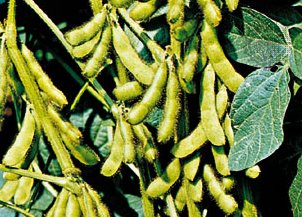 Soybeans are a good plant species for a food plot, but they are not perfect. Soybeans do have a couple of downsides. First, the growing point on the plant is above ground — and if deer, hogs, or turkey remove the top of the plant the two-leaf stage — it simply will not grow back. Thus, in areas with a high deer density, soybeans just are not feasible. Even in areas with low to moderate deer numbers, beans should be planted early enough to get past the deer while the does are fawning.
Another great option thanks to new technology: with the entrance of Round-Up Ready beans to the market you can drill seeds into residue and let the growing weeds "hide" your beans until the young plants are past the critical stage. Then, clean the food plot up by spraying the field and removing the competition.
Second, although soybeans are fairly drought tolerant, they do not yield as many tons of food per acre as alfalfa or even clover. In areas with lots of whitetail, the susceptible young plants combined with forage production could be a big limiting factor for your food plot.