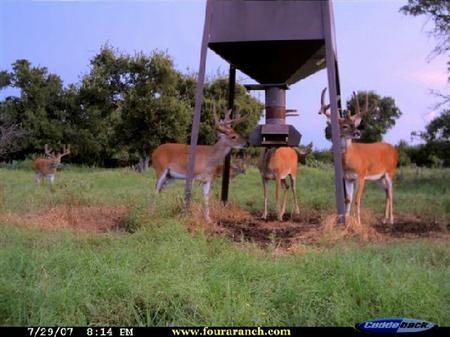 Genetics (genes) are the most important factor in determining antler characteristics in whitetail bucks. However, genes are not the only factors that determines a buck's antler potential. Both age and nutritioninfluence how a deer's genes are expressed. For example, even a buck with the genetic composition to grow the largest rack in the world was harvested at a young age or was malnourished, then the genes that the buck carried were never fully observed. Because age and nutrition determine how a buck's genes are expressed, these factors are critical to the success of a sound deer management program that strives to produce high-quality bucks.  
Although proper buck harvest is necessary to promote age and antler characteristics, nutrition can be achieved through a combination of habitat management and supplemental feeding. Habitat management is the single best way to provide year-round, high-quality food for deer, but this is typically only a viable option for land owners. Habitat management is not always feasible for hunters that lease land for deer hunting for a variety of reasons. In this case, hunters are limited to providing supplemental food through either food plots or free-choice protein pellets.
Through the years I have often received emails from concerned hunters asking, "Why are deer not eating my protein pellets?" Usually, this is because it's the first time protein pellets have been offered in the area. Deer are simply not familiar with them. In this case, I always suggest mixing corn and protein pellets at a rate of 50:50 and then broadcasting some of the mix around the feeder. After deer empty the corn-protein mix, adjust the proportions to 75% pellets and 25% corn. When that runs out, go with 100% pellets in your free-choice feeder.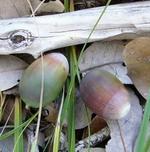 Another reason that deer may not consume protein pellets is because they are getting food elsewhere. Even established protein feeders receive less deer use during the spring and fall. White-tailed deer may not rely as heavily on supplemental foods during these times and instead use available, palatable food sources. Warmer weather and rains result in spring green-up and a plethora of high-protein forbs and browse. In fact, some browse plants can reach in excess of 35% protein! And in the fall, a decrease in pellet consumption by deer usually coincides with the acorn drop. Pellets are high in protein and chocked-full of minerals, but they can't compete with acorns, which are 50% fat! Calorie-rich acorns allow deer to store excess energy as fat as they prepare for winter.
To sum up, if deer are not eating your protein pellets it's either because they are not familiar with them or they do not need them. If you place out a new protein feeder during the spring or fall, do not expect deer to hit them very quick. On the flip side, placing a supplemental feed station out during a high-stress period, such as summer or winter, may promote the animals finding and using the feeder much more quickly.