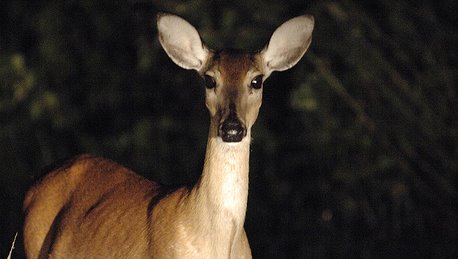 White-tailed deer breeding has become a big business around the United States. As with any business that garners big money, people look to cash in on it, both legally and illegally . Game wardens in the Special Operations Unit of Texas Parks and Wildlife Department's (TPWD) Law Enforcement Division arrested six men and executed two search warrants as part of Operation Texas Shuffle, a year-long investigation into the black market deer trade in Texas. All six suspects are alleged to have trapped, purchased or sold wild native white-tail deer. Some are believed to have laundered wild deer into permitted breeding facilities, and one serves as an agent for multiple licensed deer breeders. TPWD Law Enforcement Director Pete Flores said in a news release:   
"Our focus here is stopping two main areas of criminal activity: deer being brought illegally across state lines, and wild deer being illegally laundered into deer breeding facilities."
In one of the illegal deer cases, a permitted deer breeding facility operator allegedly darted wild deer and put them illegally into his facility. That's what I call making a quick buck. Although the breeder can profit by selling wild-caught deer as a genetically superior animals, it is against the law. It is illegal to capture or obtain wild deer and place them into breeding facilities. Breeders must obtain captive, pen-raised deer from other permitted breeders.
In addition, interstate deer smuggling is illegal because it poses a threat to native white-tailed deer from diseases such as Chronic Wasting Disease (CWD). CWD has not been detected in Texas, but it has cost tens of millions of dollars in other states because of it's impact on native deer populations. Texas borders essentially remain closed to the importation of whitetail and mule deer because of disease concerns. Captain Greg Williford told the press:
"Money is driving the illegal trade in wild native deer. A captive-raised breeder buck can sell for tens of thousands of dollars. So, catching deer in the wild seems a lot less expensive, until you get caught."
Deer breeding is a legal and growing business in Texas, estimated to be worth about $650 million per year for the state economy. There are currently 1,099 permitted deer breeders in Texas, holding 86,989 deer in 1,161 facilities.