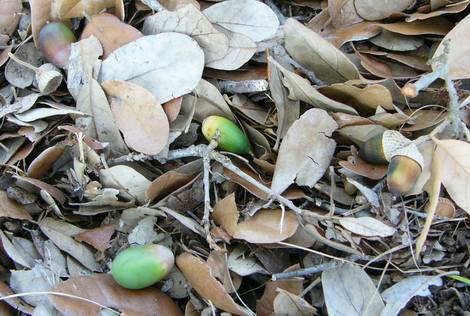 Acorns. We know white-tailed deer like to eat them and that they serve as an important fall and winter food item for deer, but how good are they really? This question crossed my mind as I sat in my bow stand intently listening for deer walking quietly through the leaves, but all I heard over and over again was snap, thud, snap, thud, snap… acorns! Live oak acorns, the dominant oak in my neck of the woods, have been falling for a couple of weeks and they are still going strong. 
Acorns are rich in nutrients although quality varies between oak species. One thing I do know is that all acorns contain high amounts of fats, carbohydrates, and good amounts of protein, too. From what I have researched, one ounce of dried acorn has on average 140 calories, of which 9 grams is fat, 15 grams is carbohydrate, and 2 grams is protein. Using some simple math, that means a whopping 50% (72 calories) of the caloric intake is from fat! Now you now why deer pig out on them prior to the onset of winter. But the buck doesn't stop there. 
Carbohydrates make up 43% of the caloric intake, which can also be converted and stored by a deer's body as fat or immediatly used as energy. Protein makes up just 6% of the caloric intake, but protein is not very important for adult deer at this time of year. However, growing fawns appreciate the additonal protein because they need it to increase muscle mass prior to the dead of winter.  
Acorns also contain important minerals such as calcium, phosphorus and potassium, and even the vitamin niacin. So by looking at the numbers, acorns literally appear to be ice cream to deer based on the fat and calorie content. There is, however, a slight downside because acorns contain tannins that make them bitter. So as good as acorns are nutritonally, deer will select acorn speices that contain fewer tannins. Red oak acorns, for example, are very bitter while the acorns of white oaks, being much lower in tannins, are more mild in flavor. Keep this in mind when deciding which part of the woods to hunt. Look for the tasty trees!
So yes, now we know just how good acorns are for white-tailed deer, but here is something for you to chew on: Just because you are at the right tree, that doesn't mean you are going to be there at the right time. This is because whitetail are ruminants and they contain a four chambered stomach. This four chamber stomach allows the animal to gather a lot of food at once, such as acorns, and then chew and digest it at a later convenience, such as while you are hunting. The other benefit of their four chambered stomach is that it allows them to process large quantities of low nutrient food that deer eat during the summer and winter.