When it comes to white-tailed deer, we all know how they are supposed to look. Most are brown and white. But occasionally in nature we get genetic abnormalities and end up with something that looks totally different — which is usually white (albino) or even more rare, black. All mammals, including white-tailed deer, can have black fur and these animals are referred to as melanistic.
They are called melanistic because their body produces too much melanin, a dark pigment that causes their hair to be very dark brown or black. This variation is obvious to even a casual observer, but I'm not sureit impacts the deer itself or if the difference is even noticed by other animals in the herd.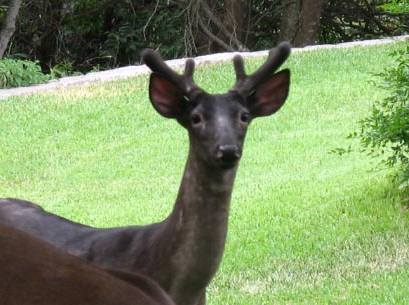 Melanistic whitetails are the most rare color abnormality that deer can have — even more rare than piebald or albino deer. The photos seen here were sent to me and they allegedly came from somewhere around Austin, Texas. The photos are that of a melanistic white-tailed buck. The pictures where taken in a residential area so this rare buck may have lucked out.