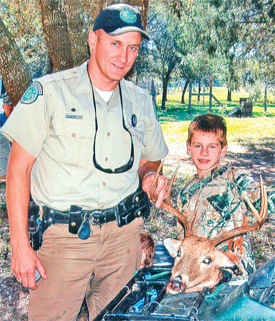 The 12,000-acre Peach Point Wildlife Management Area located west of Freeport will soon be known to hunters and other waterfowl enthusiasts as the Justin Hurst Wildlife Management Area. The Texas Legislature passed May 29, and Gov. Rick Perry signed June 2, House Bill 12, Section 53 of which makes the name change official.
Soon after Texas Game Warden Justin Hurst of El Campo was killed March 17 in a shoot-out near Lissie with a suspected poacher (which involved another game warden, Texas DPS and Wharton County Sheriff's Department officers), word got out that the Texas Wildlife Commission would be asked to consider renaming Peach Point for Hurst since he had worked there as a wildlife biologist from 1995 through 2001.
Texas Parks & Wildlife Department officials said shortly after Hurst's funeral March 21 that the renaming was all but a done deal. The late game warden's wife, Amanda, said she thinks the renaming ceremony and dedication will be held in October, which is exactly when large numbers of Hurst's beloved migrating waterfowl are arriving on the Texas coast. "Justin would think we are making way too big a deal out of this, but I think it's awesome," Mrs. Hurst said.
"I think it's very much a fitting memory for him, and I think it's good for the biologists that he worked with. It's been their baby, and was something they wanted to do in remembrance of Justin." Peach Point wasn't just special to Hurst as a TPWD biologist, but to his wife as well. It was where her future husband took her on their first date on March 14, 1998.
They had met at a Wildlife Society meeting in Beaumont in 1997, and were married April 7, 2002. Both earned degrees in wildlife ecology from Texas A&M. They also hunted and fished together.
"We went down there and drove around. He showed me the different impoundments.It was spring, so we probably looked at a few teal and some mottled ducks, shore birds and stuff like that. He showed me the bunkhouse, the barn, the tractor and the airboat. I know it's pretty exciting," she said, laughing.
Mrs. Hurst said her husband's duties as biologist were wide in scope. "He did everything from cutting grass around the bunkhouse to burning, shredding … he maintained the habitat there." Justin also worked with waterfowl banding programs, youth hunts and regular hunts on the weekends.
Peach Point provided public hunting opportunities for more than 2,000 hunters this past season. Hurst was instrumental in helping to develop those public hunting opportunities. Hurst left the TPWD Wildlife Division at Peach Point in the fall of 2001 to join the Law Enforcement Division. He entered the TPWD Game Warden Academy in March 2002.
About Peach Point WMA
Peach Point WMA near Jones Creek has 10,311 acres which were purchased using waterfowl stamp funds from 1985 to 1987. In 1988, an additional 1,627 acres were acquired as mitigation from the Brazos River Harbor District. Peach Point WMA is a part of the Central Coast Wetlands Ecosystem Project (CCWEP). The CCWEP's mission is to provide for sound biological conservation of all wildlife resources within the central coast of Texas for the public's common benefit.
Peach Point WMA is located within a league of land deeded to Stephen F. Austin by the Mexican government in 1830. The tract was known as Peach Point Plantation. The plantation was established in 1832 by James F. Perry and his wife, Emily Austin Perry, Stephen F. Austin's sister, who bought the property from Austin for $300. The land was operated as a slave plantation until 1863 with cotton and sugar cane the primary crops.
Perry died in 1853, after which Emily Perry gave William Joel Bryan (her son by previous marriage) 200 acres of the original plantation. Bryan and his wife, Lavinia Perry, made their home there and developed a thriving cotton and cattle business known as the Durazno Plantation. A portion of Durazno Plantation is contained within the present boundaries of Peach Point WMA.
The portion of Peach Point Plantation that contained Peach Point WMA was donated to Austin College by Lucy Harvey. The property was later sold to a consortium of six major petro-chemical corporations. Development plans included construction of an offshore pumping station for oil tankers. However, plans were canceled due to the decline in the oil-based economy. The Nature Conservancy eventually acquired the 8,580 acre tract, and it was from them that TPWD purchased the area using waterfowl stamp funds.
Goals of Peach Point WMA
In prioritized order, the Central Coast Wetlands Ecosystem Project's goals are:
n To develop and manage habitats for indigenous and migratory wildlife species with a special emphasis on waterfowl.
To formulate research and management activities on WMAs and private lands and disseminate research results and management information to scientists, land managers, resource agencies, and other interested groups and individuals.
To expand and improve WMA facilities to accommodate intensive research and management activities that will allow complete understanding of coastal ecosystems.
To provide optimal public outreach and recreational opportunity on state-owned lands compatible with the resource.
The wildlife management area where Justin Hurst worked as a wildlife biologist prior to becoming a game warden will be renamed as the Justin Hurst Wildlife Management Area and dedicated in October 2007.