Another BBD (big buck down), this time just to the east of me in the state of Louisiana. The state known as the Sportsman's Paradise is living up to its name, at least for one persistent hunter that was able to scout deer, big deer, right from his office.
It's just about prime time for white-tailed deer hunting in my part of the world and all the recent photos of giant, hunter-harvested bucks are getting my pumped up. And even though it's Monday, the temperatures, which were in the 40's this morning, are telling me I need to be spending more time outside right now… much more time.
Hunter Arrows Big Buck in Louisiana
The Big Buck's Story
Source: A St. Francisville dentist on Oct. 5 arrowed what could be the largest Louisiana non-typical deer to be killed with a bow — and he was hunting pretty much where he works.
"I killed the deer inside the city limits — behind my dentist office," Dr. Frank Sullivan said of the 18-pointer that grossed between 220 and 230 points.
Sullivan said he and buddy Dr. Travis Links, who killed a 190-inch buck last season, couldn't narrow down the score any more than that because of the craziness of the rack, which includes three drop tines and a third main beam.
"I truly don't even know how to score a non-typical like this," Sullivan said. "I tried to be conservative."
The buck, which has 11 points and two main beams on the left side and 7 points on the right, can be officially scored after the rack dries 60 days. Former state Deer Study Leader Dave Moreland saw photos of the massive deer and told Louisiana Sportsman that there's no doubt it will make the Pope & Young record books.
The current state record non-typical bow buck was killed by Vicki Husted in Tensas Parish in 2010 and measured 227 6/8 inches. But Husted's deer, along with the No. 2 buck on the state's all-time Big Game Records, was measured in velvet.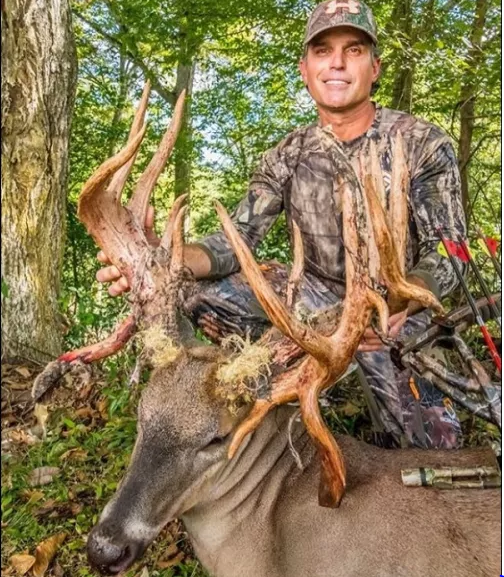 Louisiana Tough Buck
The state of Louisiana is known for some tough, gumbo-powered dudes that take on everything from alligators to hurricanes. Apparently the white-tailed deer found living within the state are no different, taking on anything that bites… from mosquitoes to reptiles to arrows and even vehicles.
The impressive nontypical buck shot by Sullivan has also experienced his share of tough times, too. Last year, the buck was shot by a hunter on a neighboring property. Done deal, right? Wrong.
Then Sullivan, from inside his own office,  observed the massive buck get struck by a passing vehicle. This would have cut short a great hunting story… but the buck shook it off, got up and ran off… and continued to live! I guess when living in the city you either get tough or die trying.