One of the best things about white-tailed deer hunting is that you never know when or where a big buck could show up. Case in point: a big nontypical whitetail buck that was recently discovered in Oklahoma — the kind of buck that would keep you awake at night if it showed up in your game camera photos.
Unfortunately, deer hunters in the area will not be able to claim this giant whitetail and there is no doubt that a number of hunters have photos of this great animal. You see, the buck actually lived in close proximity to a neighborhood in Edmond, Oklahoma.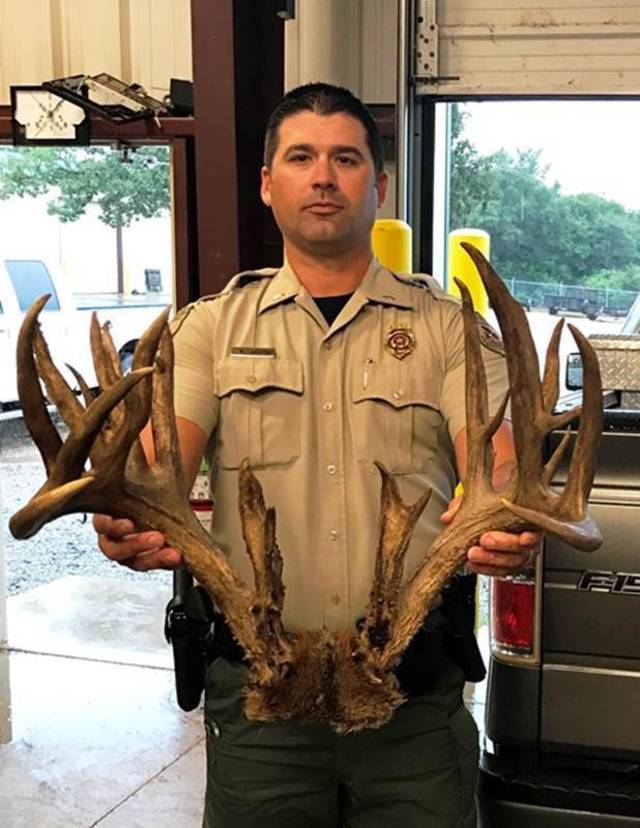 Big Buck Down
The buck was found in late September, just prior to the Oklahoma deer season opener. Turns out the animal was road-killed, found along the side of the road. Big bummer for area hunters, especially since this mature buck sported a whopping 28 points. I don't know about you, but from where I come from that is the stuff that dreams are made of.
According to local news outlets the whitetail buck measured 236 3/8 inches using the Boone & Crockett antler scoring system.
Oklahoma on The Map
The state of Oklahoma has produces good deer year-in and year-out. But the OK state is not alone. A number of state's have seen improvement in the age structure of bucks, with yearling bucks comprising the lowest percentage of buck harvest in the nation just last year.
That bodes well for hunters this season, especially other states in the region such as Texas. With two back-to-back seasons of amazing rainfall, white-tailed deer hunters in Texas have something special to look forward to this hunting season.
Lots of Good Bucks
Not only are bucks in great shape right now, but there will more older bucks in the herd this fall. Good habitat conditions in Okalahoma and Texas last year made deer hunting tough. An abundance of natural food resulted in lower deer movements, less visits to food plots and deer feeders.
This phenomenon allowed a lot more bucks to reach an additional year of age. Maybe this resulted in even fewer yearling bucks being harvested? Hard to say for sure, but I know that I am excited for the season because all those survivors will have even more antler growth this year. With the deer hunting season underway, hopefully you are reading this from your stand!