You've got the stereotypical pick up truck. They drive a Subaru. You hunt white-tailed deer and other game animals with guns. They "hunt" for game and non-game birds with cameras. A new study is suggesting that hunters and birdwatchers are more alike than either group realizes. Despite the different forms of "hunting" that each of these groups engages in, each has a vested interest in taking care of our all-important natural resources.
A survey by researchers was used to determine whether wildlife recreationists were more likely to engage in wildlife conservation efforts including activities such as donating to support local management efforts, improving wildlife habitat on public lands and advocating for wildlife recreation, in the study published in the Journal of Wildlife Management. They sampled hunters, birdwatchers, hunter-birdwatchers (people who regularly participate in both activities) and non-nature-based recreationists in rural New York, and found hunters and birdwatchers were more likely to participate in conservation behaviors while hunter-birdwatchers were the most involved in conservation behaviors.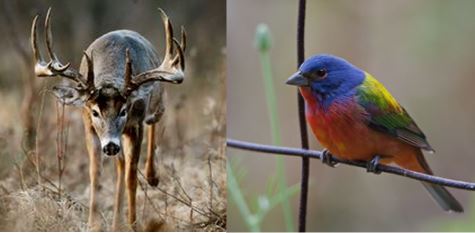 Source: "This reinforces the notion that we protect what we're familiar with and what we care about," said Caren Cooper, the assistant director at the biodiversity research lab at the North Carolina Museum of Natural Sciences, and the lead author of the study. "This means there's all the more reason to support activities that foster that appreciation."
Most surprisingly, Cooper found that after discussing her findings on a blog, those that enjoy hunting and birdwatching engaged in discussions that showed they were unaware of each other's passion for conservation. "Hunters and birders were shocked with the results about one another," she said. "Except for people who do both, the two different communities failed to realize they're kindred spirits when it comes to conservation."
Cooper said birdwatchers are often put off by hunting, and hunters don't seem to see the knowledge that goes along with birdwatching. But after learning about the study, both groups realized that they share a common passion for wildlife habitat management and conservation. Both groups also enjoy long walks along the beach at sunset. What do you think about the differences and/or similarities between hunting and birdwatching?