The last of the 2012-13 Texas deer hunting seasons officially ended as the month of February came to an end. Many hunters put deer season behind them months ago when the General Season ended, but properties enrolled in Texas Parks and Wildlife Department's Managed Lands Deer Permit (MLDP) Program under Levels 2 and 3 just wrapped up their hunting. Now that the month of March has blown in (literally) it appears a new crop of fawns will be hitting the ground in just a couple of months. Where does the time go?
But as one season ends, another is about to bloom. Hopefully. Chalk up another drier than average winter for almost every corner of the state. Things have been green as of late, but soil moisture is low and everyone is going to need more rain when the temperatures increase. There just is not much in the tank and it's going to get ripped out of the soil as plants use it for both growth and evaporative cooling. Deer and their habitat need rain from time to time. As research out of Texas A&M University-Kingsville, where they were investigating antler growth in both fed and unfed bucks, recently stated: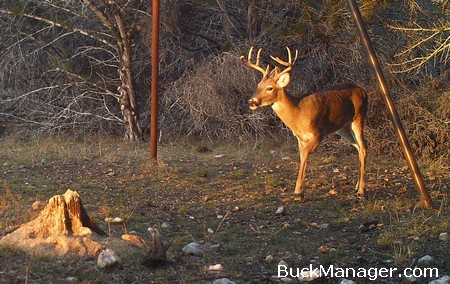 "Average antler size of males in both treatments decreased noticeably during drought in 2009 and 20011. Antler size decreased during drought even with pelleted feed; we interpret this result to imply that maintaining quality natural forage is important and deer depend on vegetation even when pelleted feed is available."
Amen, brother.
High quality forbs and browse will always be the gold standard when it comes to whitetail deer foods. That's the primarily reason I am a big believer in deer habitat management. Food availability can be manipulated through habitat enhancement and deer population management, but it's hard to grow good habitat when Mother Nature does not lend a helping hand. Fortunately, whitetail deer are a hardy species that can make do when times are tough. Things are looking okay so far.
There are more than just deer in them there woods though. Improving deer habitat benefits many other wildlife species too. Most habitat management practices for whitetail deer fall right in line with turkey management techniques, creating better habitat for those animals as well as other game and non-game species. Habitat enhancement is a large part of developing better deer and turkey hunting, but it must start with action on the ground. It ends with happier landowners, hunters and wildlife, including rabbits, quail (if you still have some) and dove. Unfortunately, healthy plant communities attract everything, including feral hogs.
The next deer hunting season starts in about 6 months, so no better time to get cracking on all the projects you planned during the last one. Hey, there's only a couple of months left before it gets really hot. Take advantage of it. I've been meaning to get out and get a few more things done myself, as well as get some exercise while searching for shed antlers. Although bucks have already started dropping antlers there are still quite a few holding on to their headgear. The 2012-13 deer season is definitely in the books, but my shed hunting season is about to be in full swing.