With the official start of summer almost upon us and whitetail bucks rapidly putting on new antler growth, it is never to early to speculate about the fall white-tailed deer hunting seasons in Texas. Unfortunately for everyone, dry weather has kept a damper on many deer and habitat management practices to date, but poor habitat conditions may help hunters across the state this fall.
Most folks know that dry weather is not good for wildlife. Deer hunters are also aware that low rainfall equates to below average antler sizes for bucks relying on natural forage to get them through the year. That being said, it comes as no surprise that severe drought across the state has dimmed what usually is a bright outlook for white-tailed deer quantity and quality.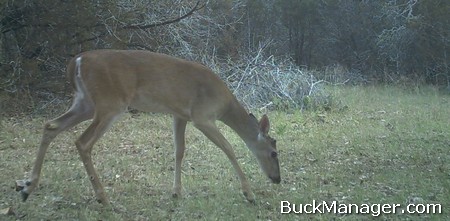 Alan Cain, the whitetail program leader for the Texas Parks and Wildlife Department (TPWD), said looking into the crystal ball months ahead of a season is never easy, but one thing is certain: The old saying about Texas weather and waiting 5 minutes for it to change is right on.
"We just can't seem to win," he said. "It goes from one extreme to another with rain and drought. Unfortunately, much of the state has received minimal rainfall since last September and facing tough drought conditions. Although we've received some decent rain in May it will not be enough to sustain or improve habitat conditions throughout the summer unless the rain continues on into June and July."



TPWD said overall production from this last year should definitely help hunters, including having a good fawn crop across much of the state and a good carryover of 1½ year old bucks and does. With an estimated whitetail deer population between 3.7 million and 4.2 million animals in Texas, that means there are a lot of hungry mouths out there as temperatures increase and soils continue to dry. Deer will be actively searching for food, which will help hunters this fall.
"Harvest appeared to be average last season and possibly slightly below average in a few areas in East Texas and down in the Oak Prairie region," he said. "However, much of that was likely due to the great range conditions last fall that offered lots of acorns and green vegetation. With all that food, deer just weren't showing up to feeders. Reports from the Hill Country did indicate an above-average harvest, but that region of Texas is a deer factory and high harvest is good to help keep populations in check with native habitat. With that said, there was probably a decent carryover this past winter and hunters can expect to have plenty of deer to hunt this fall.

If the drought continues through the rest of the summer we will see lower fawn recruitment this fall, deer will probably readily come to feeders as a result of less than desirable range conditions and hunters should have pretty good success," he said. "We always encourage landowners and managers to encourage hunters to meet their harvest goals for the ranch, regardless of drought or wet conditions."
It is recommended that both hunters and landowners stay on top of the deer populations found on their property. Whitetail can drastically impact the habitat where they are found. There is rarely an average year in Texas, only years of extremes that when put together make some sort of average. With too many deer and/or exotics on the range, particularly during poor range conditions, whitetail deer performance suffers and antler quality decreases as well as fawn production and survival. Landowners that diligently practice good deer management year-in and year-out will always have better, healthier deer.
Alan Cain may have summed it up when he said, "If the dry conditions continue this year, I would encourage hunters to try to fill their tags and for those deer hunting on managed (MLD Permit) properties try to meet their harvest recommendations this year." It seems as though hunters may benefit in the short-term, but the drought may have long-term impacts on Texas' whitetail deer herd.