It often amazes me when I hear an uninformed hunter talk about deer management and the habitat requirements of white-tailed deer. After hearing them speak just a few sentences, it's obvious that they do not have a clear understanding of a whitetail's habitat needs or the foods that they eat. This blows my mind! After all, these are the same guys that proclaim to "love" hunting. But I suppose there is a big difference between deer hunting and white-tailed deer management.
Deer hunting can exist without deer management. After all, you don't necessarily need many (or any?) deer to go deer hunting. However, white-tailed deer management can not occur without hunting as part of the overall equation. In short, you can love hunting while being indifferent to management, but if a deer management program is in place then hunting is part of the package.
So where am I going with this? I guess what I'm trying to do is illustrate is the difference between hunters that simply shoot deer and those that manage for them. There is nothing wrong with either of them. Besides, we all go through various stages in our hunting lives. However, there comes a point when most hunters connect the dots and realize that there is a strong relationship between the habitat that the land provides and the health of a local deer herd.
It's at this point that we realize the horse goes in front of the cart—not the other way around. You can't expect to have a well-above-average deer herd and quality bucks if you don't provide them with the habitat that they need. That habitat includes the food, cover, water and space that a white-tailed deer requires.
Believe it or not, every trophy (insert your definition of a trophy here) buck starts out as a little baby fawn. The desire to shoot a trophy buck on a property where no fawning habitat exists would be like putting the cart in front of the horse. It doesn't work that way. Every hunter thinks about big bucks, but only a small percentage of landowers consider protecting and providing habitat for deer fawns. This, now, is how we connect the dots.
Taking the effort to provide needed deer habitat today will ensure that you have deer to shoot tomorrow—or rather several years down the road.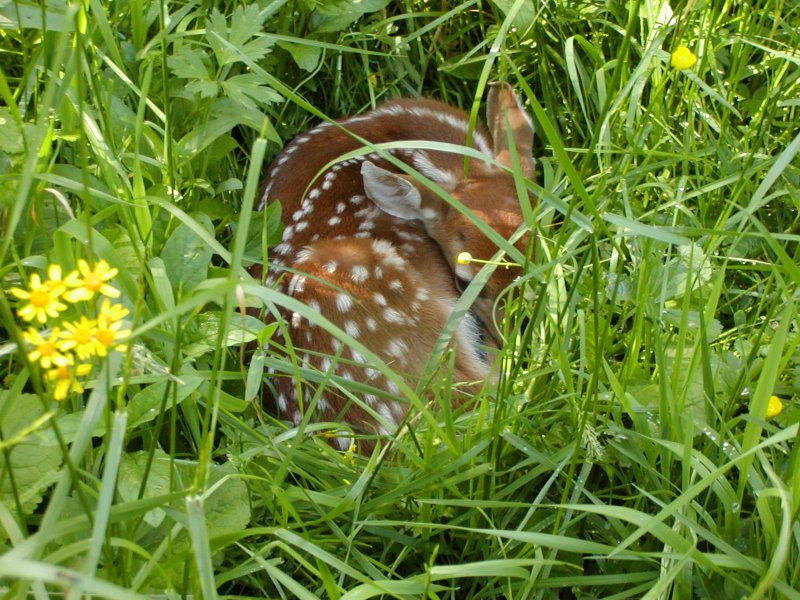 Although white-tailed deer eat very little grass (less than 10% of their diet), tall grass is an important component of fawning habitat. Does will often leave newborn fawns unattended along field edges or deep within grassy cover. This herbaceous ground cover provides structure that screens fawns, whether moving or lying down, from predators during both the day and night. Trust me, it's not hard for a predator to locate a fawn in an overgrazed pasture or freshly-cut hay field.
In fact, if you are interested in providing fawning habitat (as well as not cutting up fawns) then I would not hay fields from the beginning of May until the end of July. On properties that run cattle, I suggest deferred grazing of at least 20% of pasture in advance to grow and provide adequate grass cover during the fawning period. Once fawning is completed, return livestock into those areas to consume grass cover and create a more favorable environment for forbs.
To estimate when most does fawn add 210 days to the peak of the rut in your area. This should give you a good idea of when most fawns are born. I'd then add 30 days to the front and 60 days to the back of that date to serve as a window of when fawning habitat is of utmost importance.