If you have spent any amount of time driving around Texas then you know that there really are good, native white-tailed bucks scattered across the state. You don't even have to be a deer hunter to realize that the Lone Star State harbors some photo-worthy whitetails in every region, although some places seem to have more than their fare share. This widespread buck quality is a testament to Texas' great whitetail habitat and the many ranches involved in very successful deer management programs.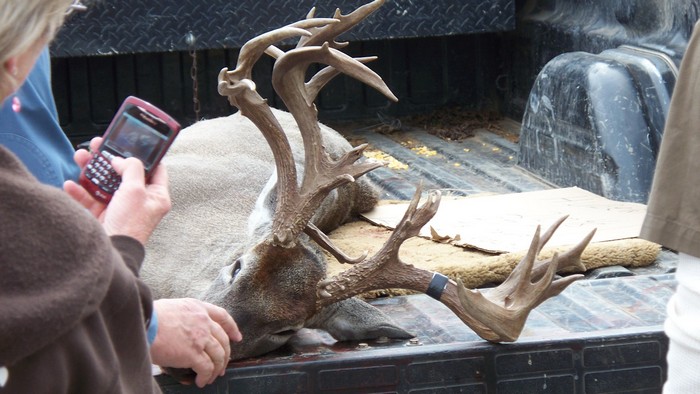 Brown County has long been a favorite place of many hunters looking to set their sights on white-tailed deer. And deer hunters love Brown County for good reason, because there is some amazing deer country out there! Although this area produces solid whitetail bucks year-in and year-out, it seems one lucky hunter really got even more than he could have imagined this season. Let's just say the results are, well, non-typical.
Here is what I received via email:
"Attached are photos of a freak whitetail buck that was supposed to have been killed this morning between Thrifty and Grosvenor. I received two calls this morning telling me that the non-typical buck was at Weakley Watson Sporting Goods. Since I was already in town, I stopped and took the attached photos. The buck had been scored at 208 and had 27 points. There was quite a crowd gathered to see this big whitetail buck."
I believe that big whitetail bucks can be produced just about anywhere where high quality deer habitat is found. Time and time again I've seen people on private ranches increase the antler size of bucks on their property by improving habitat, regulating harvest, and implementing good all-around deer management techniques. Sure, it never hurts to have a genetically exceptional buck make any place look good, but there are certain things anyone can do to improve the quality of every deer on their property. Just a little something to think about as you enjoy these photos.