The state of Nebraska is well known for big corn-fed bucks, but I doubt Wesley O'Brien expected to harvest a white-tailed buck of record proportions when he left Lexington, Texas, on an invited no-cost deer hunt. Large-bodied bucks produce robust antlers and Nebraska is known for both of them. I'm sure the 24 year old hunter had dreams of big bucks bounding in his head, but could it happen? He wasn't going to be in Texas anymore, and barely north of Kansas for that matter.
He was, however, on a farm in Richardson County, located in the far southeast corner of Nebraska. On Saturday, November 14, the very first evening of Nebraka's gun season, the hunter's aim was true as he squeezed off a round at a monstrous non-typical whitetail buck standing broadside and approximately 100 yards away. Wesley knew the shot was good as he watched the big buck go down. He also knew the buck was good, but determining how good was going to take some work.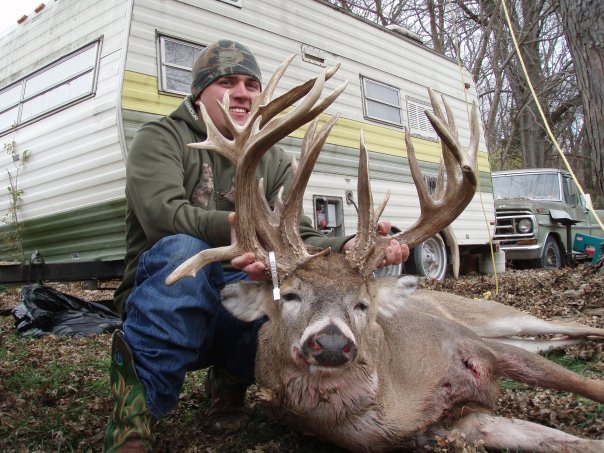 As Wesley O'Brien can attest, the deer did not suffer from ground shrinkage. In fact, the buck tenatively scored 281 Boone and Crockett inches and is threatening as largest white-tailed buck ever harvested in the state of Nebraska! The antlers will be officially scored after the mandatory 60 day "drying" period as required by Boone and Crockett Club.
Source: "So it remains to be seen if the O'Brien buck will top a famous set of antlers from a deer killed 47 years ago in Hall County by bowhunter Del Austin of Hastings. Commonly called 'Old Mossy Horns,' the Austin buck scored 279 7/8 , ranking it not only first in Nebraska, but a world record for a whitetail taken by archery."
O'Brien admitted that their was some luck involved in taking this bruiser whitetail, which he now refers to as "Too Easy." He came to Nebraska with a friend who knew a landowner, who in turn allowed them to hunt his farm. Other than a non-resident license, O'Brien paid no fees for deer hunting access. He then shot the buck shortly before sundown not long after stepping out of a truck to stalk a different buck.
Sometimes white-tailed deer hunting is just about being in the right place at the right time. Or from the buck's perspective, at the wrong place at the wrong time.