As mentioned in the first part of this two part series on small acreage deer management, selective deer harvest on properties less than 500 acres in size is difficult to control because most deer in the area will have home ranges that encompass neighboring ranches. The best remedy for combating the small acreage dilemma is to find cooperative, adjacent ranches that can increase the quantity, and ideally quality, of land under a common white-tailed deer management program. Increasing the reach of a management program should be the first priority of any small ranch owner, or even large ranch owner, but I also want to touch on some of the other important deer herd issues that were asked about in the first part of this series — estrus cycles, spikes, and buck to doe ratio.
First, with regard to the estrus cycles of deer, whitetail does cycle every 28 days. Late-born fawns are the products of does that cycle later than normal or does that were bred on their second or third estrus cycle into the breeding season. Although born later than usual, late-born whitetail fawns are not genetically inferior to fawns born earlier in the fawning season. Furthermore, research has shown that fawning date is not a factor in the antler production of yearling (1 1/2 year old) white-tailed bucks. Although genes are genes and can not be changed, antler production can be influenced by environmental conditions.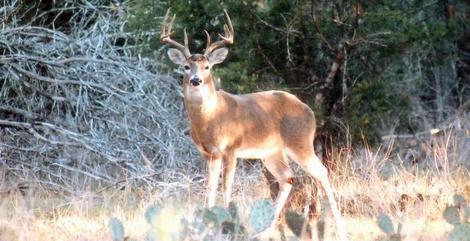 This takes us to the long-debated discussion about spike bucks. Despite the fact that some hunters believe spike bucks should not be harvested, you will not be doing your deer management program any favors by leaving spike-antlered yearling bucks on the landscape. Above, I mentioned that environmental conditions can influence antler quality. This is true for all buck age classes, but recent research has shown that even on poor diets, which simulated poor habitat conditions, some of the yearling bucks in the study were still 5, 6, 7, and 8-point deer — and fawning date was not a factor. Although 95% of spike bucks are yearlings (1 1/2 years old), any spike buck, regardless of age, should be removed.
If you still need convincing, I will use an example from the commercial deer breeding world. There is not a single whitetail breeder out there lining up to buy spike-antlered yearling bucks when 8, 9, and 10-point yearlings are available. Why? Because they, like you, know that antler characteristics are highly heritable. By the way, 8, 9, and 10-point yearlings occur in the wild, too, although not as common as yearling bucks with fewer points. The standard operating procedure outside of a deer management program is to shoot the bucks with the most points. Under this scenario, these good bucks get harvested early and are not allowed to pass on their much-desired genetics. Under a managed scenario, high-quality young bucks should be protected and deer with lower quality antlers, such as spikes and 3-point bucks, should be harvested.
I have written about the importance of buck to doe ratio in the past, so make sure to review the previous article for more in-depth information. Buck to doe ratio is very important in determining fawning dates and small acreage managers should shoot for about a 1:2  buck to doe ratio. Larger ranches or game-fenced properties can shoot for a more equal buck to doe ratio (1:1), but smaller ranches should carry a few more does than bucks. In the case of a 1:10 buck to do ratio, it's probably time to trim down the female segment of the deer herd. Not only will harvesting excess does improve fawning dates by having remaining does bred earlier, but it will increase fawn survival by providing more summer food for nursing does. And better fawn survival means more bucks in the future!