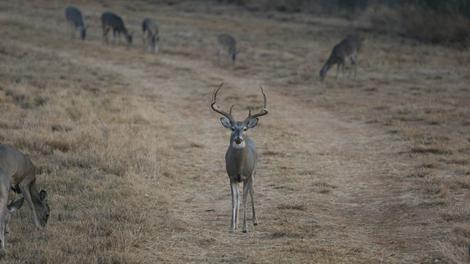 With an estimated statewide deer population of 4 million animals, many Texas hunters take white-tailed deer hunting for granted. However, there are still parts of the state where gun-hunting seasons do not exist. The Texas Parks and Wildlife Department (TPWD) has been considering a proposal to open a general firearms deer season in Grayson County. A public scoping meeting to gather additional landowner and hunter feedback will be held in Grayson County on Thursday, January 8, 2009. Grayson County Judge Drue Bynum has been invited to open the meeting and TPWD Executive Director Carter Smith will facilitate the remainder of the meeting, which will include a short presentation on TPWD's regulations process and the rationale for contemplating a gun deer season in Grayson County.
The Grayson County general firearms deer season issue is part of an extensive suite of potential regulation changes in deer harvest TPWD is considering throughout much of the state. Like many state wildlife departments, TPWD uses hunting regulations to manage hunter harvest on a county level to achieve statewide deer management goals. Due to increases in deer numbers across the state, and the continuous decline in the average number of animals harvested per hunter, TPWD has proposed more liberal hunting regulations for white-tailed deer over the past few years.
The meeting will take place at Grayson County College's Center for Work Place Learning Auditorium near Sherman. The auditorium will open at 6 p.m. and the public meeting will begin at 7 p.m. All comments will be recorded and used for the final decision, which will take place at a public commission meeting at TPWD Austin headquarters on March 25-26, 2009.