Last week I wrote an article discussing harvesting white-tailed deer early in the season, which I strongly recommend. The article discussed why it is important to remove deer before winter, especially does, and the benefits of having a deer herd at carrying capacity. Well, one reader posed a question that many of you may be interested in:
"What about nursing fawns early in the season? Will taking lactating does hinder growth and development in these young deer?"
Yes and no. To begin, whitetail fawns are usually weaned and become functioning ruminants at eight weeks of age. Most fawns at southern latitudes are born in late May and June, meaning the majority of fawns are weaned by the end of August. And this makes sense from a biological perspective, because as late-summer food sources deplete the doe can then rely on the fawn to nourish itself. This covers the majority of whitetail fawns that hunters will encounter in the field during the fall hunting season.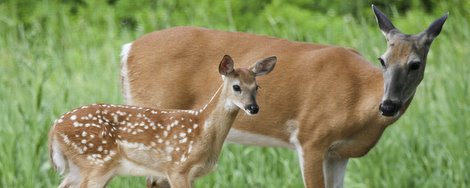 However, if you see a late-born fawn that still has spots, then I would not recommend harvesting the doe. Spots suggests that the deer is not old enough to survive on natural forage alone. With that said, fawn survival ultimately depends on habitat quality. Malnutrition and associated problems are the primary cause of poor fawn survival in most areas. Poor habitat does not help the doe feed the fawn, or the fawn feed itself after it is weaned. Poor habitat is bad for recruitment and drought conditions only aggravate the problem of inadequate food.
In general, harvesting does with fawns will not impact an individual fawn, unless of course the fawn is less than two months in age. Fawns older than two months, found in areas with good habitat, are just as likely to survive after the doe is removed. In short, if you need to remove does to get your deer herd at carrying capacity, do not hesitate to harvest does with older fawns.