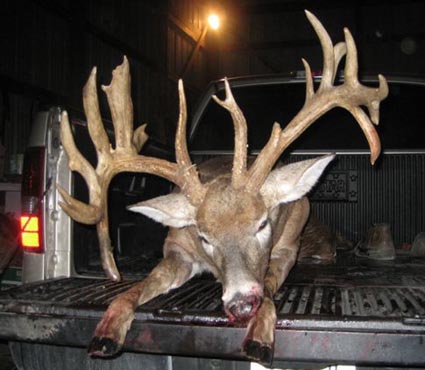 The deer hunting season is well underway around the country and from time to time I like to post some of the big bucks taken by hunters. The photos today come from a lucky Illinois bowhunter that bagged this big non-typical white-tailed buck. The mid-west is known for big-bodied bucks that sport huge racks. It is important to note that Northern deer get much larger than whitetails at southern latitudes, primarily because they need the body mass to make it through the harsh winter they receive each year.
These big-bodied bucks often develop monster antlers. Why is this? Well, all mammals get larger as you head north — it's just a scientific fact. But the amazing thing about bucks in general is that many of the minerals used to grow antlers is taken directly from their bones. More bone mass means the potential for more antler mass. So the take home message here is that big healthy bucks have the potential to grow large, massive antlers — regardless of latitude.      
Any guesses on the score?