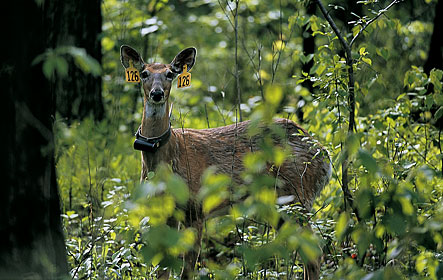 The Louisiana Department of Wildlife and Fisheries (LDWF) and Louisiana State University (LSU) Agriculture Center have spearheaded the study with help from various contributors. The study is has entered its second and final year. The primary objectives of the study are to assess range and movements of male and female white-tailed deer, evaluate age and sex-specific harvest rates of white-tailed deer and evaluate survival and causes of death among male and female white-tailed deer in a Louisiana bottomland hardwood forest.
The study is being conducted on approximately 40,000 acres of bottomland hardwood forest located west of Baton Rouge and east of the Atchafalaya Basin. The study area is currently leased to more than 30 private hunting clubs, and each club belongs to a cooperative that promotes quality deer management on the property.
The LSU School of Renewable Natural Resources' Michael J. Chamberlain, Ph.D., and Justin Thayer, LSU grad student, are directing the study. During the first year, researchers trapped and fitted 24 deer with radio tracking collars. Of those initial 24 deer, hunters shot nine deer, one deer died of disease and two deer slipped their collars. This left 12 deer (8 bucks, 4 does) from the first year of trapping that are currently being monitored. So far this spring, 21 adult bucks and 3 adult does have been trapped and collared.
"Right now we are monitoring a total of 36 deer three to four times a week," said Thayer. "This study is starting to produce important survival, mortality and movement data that will tell us more about the deer herds in this part of the state. This data will help landowners, hunting clubs and the department in future deer management plans."



Many deer managment oriented groups have stepped forward to help fund this study for the final year. The South Louisiana Branch of the Quality Deer Management Association (QDMA) donated another $2,500 this year to bring their total to $9,170 donated to the two-year study. The Acadia Sportsmen's League donated another $500 this year to match the $500 they donated last year. The Bercham Holding Company Inc. also donated $500 this year to bring their total to $1,000. Rubicon LLC was a first time donor, contributing $500 to the study.
The Louisiana Wildlife and Fisheries Foundation matched $2,000 of the total amount donated this year to bring their total matching contribution to $4,000. Additionally, the Bayou State Bowhunters Association gave $1,000 and Acoustical Specialties gave $500 last year to the study. Thayer said:
"There is no way we could do this study without the generous donations given by so many outdoor interested groups. Their contributions show how important this study is to them and their members."
White-tailed deer are an important economic and recreational resource across their entire range. In Louisiana and other southeastern states, land managers are choosing strategies geared toward developing quality deer herds. Because this management regime involves restricting harvest of younger-age-class bucks and increasing the harvest of females to lower herd density, substantial interest exists in understanding the effects of quality deer management on population characteristics.