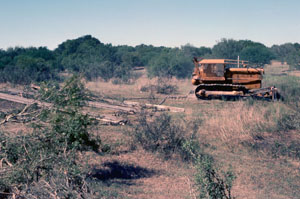 There are many effective ways to control or maintain brush. Where woody plant growth is short and overly abundant, such as arid areas like south Texas, chaining is an feasible and cost-effective way to get the job done. White-tailed deer need brush, but where too much cover exists, the removal of some brush can be a great deer management strategy.
The concept behind chaining is simple. Pull a big chain, knock down woody plants, and create more edge and places for forbs to grow. Chaining is typically done with two dozers that pull a ship anchor chain. It's recommended that the chain be pulled in a half-circle or "J" pattern between them (from an aerial view). The chain should not be stretched tight between the dozers!
In order to pull out the target species of brush, each link should weigh more than 50-pounds. And since you will likely have to hire someone to pull this management activity off — unless you have two bulldozers and some 50-pound per link chain lying around — they will know exactly what to do if you tell them what you want to accomplish.

As far as effectiveness, the most uprooting occurs with good soil moisture and on trees with diameters greater than 4-inches. Smaller trees tend to be limber and either bend over or break off (breaking off may not necessarily be a bad thing). Trees or brush that resprout will provide high-quality browse for whitetail and soil disturbance will promote a diversity of palatable forbs.
Chaining is non-selective and drags down all plants in the path of the chain. Obviously, chaining makes a mess, so some clean up with dozers will be necessary or it can be integrated with prescribed burning to remove woody debris.
Lastly, cactus' can be spread by chaining, so a follow up chemical treatment or burn may be necessary to eliminate the occurence of this plant. Chaining is not recommended for resprouting species unless some other type of follow-up management activity is planned.
In short, if you have an abundance of short, woody brush and trees, chaining could be a viable method to control brush, provide more edge and forbs, and better manage deer habitat in your area.