Prior articles have covered the necessary measurements to properly score a white-tailed buck using the Boone & Crockett Scoring system, so now it's time to cover all the necessary equipment you will need. You can either purchase of the items individually, buy a scoring set from any of the many outdoor retailers, or get an "official" set from Boone & Crockett.
First, anyone interested in scoring deer will need a 1/4 inch steel tape to measure the antlers. This is mandated by the rules, and no other instrument can be used to measure the antlers — except a flexible steel cable can be used to measure the points and main beams. However, you still need the tape to measure the cable length.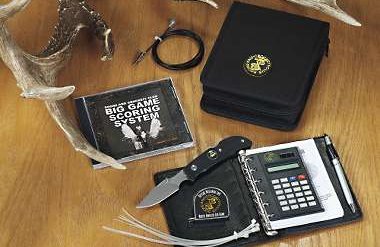 And yes, you need to get a flexible steel cable as it is the most accurate for taking both the beam and point (tine) measurements, and we know you want every 1/8″ you can get! Also, you will need an "alligator" clip or other device to securely mark the cable. If you buy a scoring set, all of the necessary equipment should be included, but many of you can probably gather up most of the equipment needed right out of your work bench.
Lastly, you will need a score sheet (below) to ensure that you take and record all of the necessary measurements, and remember to take each . If it looks like your trophy will make "book," then it's time to find and Official Boone & Crockett Scorer! However, keep in mind that no offical measurements can be taken until a mandatory 60 day drying period has elapsed.
Boone & Crockett Score Sheet:

— Please note that the Boone and Crockett Club score charts are protected by copyright laws. The score charts reproduced in this section are for personal use only and not acceptable for entry in the Club's Awards Program. Official score charts can be obtained from official measurers or the Club's headquarters at a nominal price.