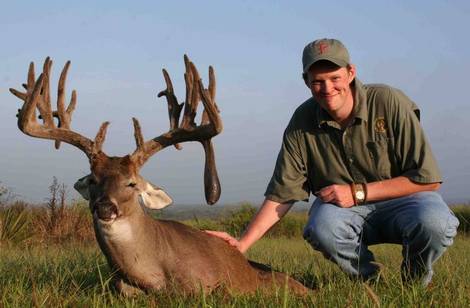 Deer hunter Marko Barrett of San Antonio, Texas, made Muy Grande Deer Contest history with this record-breaking Webb County white-tailed buck he entered in the All-Around Men's Division of the contest in 2007. The buck scored roughly 273 gross Boone & Crockett points with 34-points and a 25 1/2-inch spread. The mature buck was still in velvet when it was harvested off the 4,000 acre Las Raices Ranch. Marko harvested the huge white-tailed buck using a rifle from a brush blind at about 120 yards. Now that's a Texas-sized buck!
Barrett describes the deer as a 7 year old that he had been watching for years. This year, the ranch received "56 inches of rain and counting" which pushed this deer well over his historical best score. Barrett thinks that he will score somewhere in the 270's when "he is stripped of velvet and dry".

Barrett describes Las Raices Ranch management program as an "all native deer" operation without breeding facilities. The ranch does feed protein year-round and "use multiple feeders so the dominant buck won't keep the others from the feed."

Barrett says things have been crazy since he shot the buck with all of the emails and phone calls. However, that is what "buck fever" is all about.
Congratulations to Marko Barrett and the ranch's great habitat management! In addition, thanks to Marko and the Las Raices Website for the great photos. They have proven what good genetics, habitat management, and harvest management can do!