The buck pictured here was harvested by Rex Covell of Shawnee, Kansas, during a Miami County archery hunt on October 23. The big whitetail buck, which actually has three antlers, has a drop-tine-like antler which passes through the head and drops out adjacent the buck's left eye!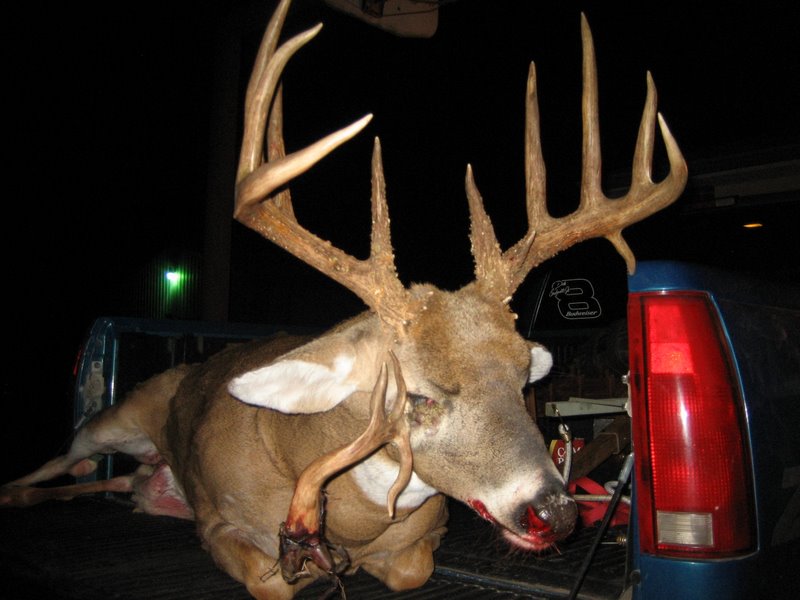 Covell said he is still on cloud nine.
"I had moved my Tri-Pod deer stand just a couple of days before, and I got in the stand about 4 in the afternoon. I was watching as other animals were around. A squirrel was near and I was watching it when I heard another noise. I looked around and this big buck had just jumped the fence and was coming right toward my stand.

It was all over in a matter of seconds. I didn't really see the antler growing out by the eye, I just saw he was a big buck with a tremendous rack. I just had seconds to shoot. He was walking in when I let go."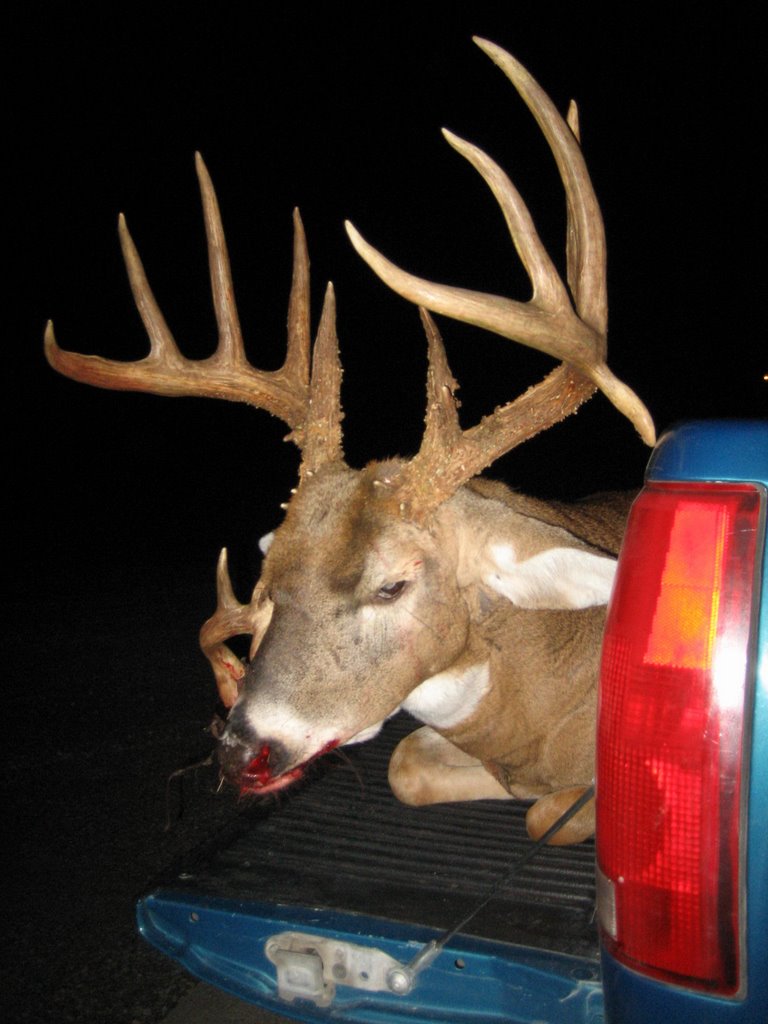 Here's how the hunt went down: It was about 6:30 p.m.
Covell said the big buck ran only 30 to 40-yards before dropping dead. He was using a PSE bow, with a Goldtip shaft tipped with an After-Shock point.
He was amazed when he saw the antler sticking out from below the buck's eye. "I thought at first he had been in a fight and the other buck's antler had embedded and broke off," he said. It was a while before he learned it was an abnormal antler growth giving the buck three antlers.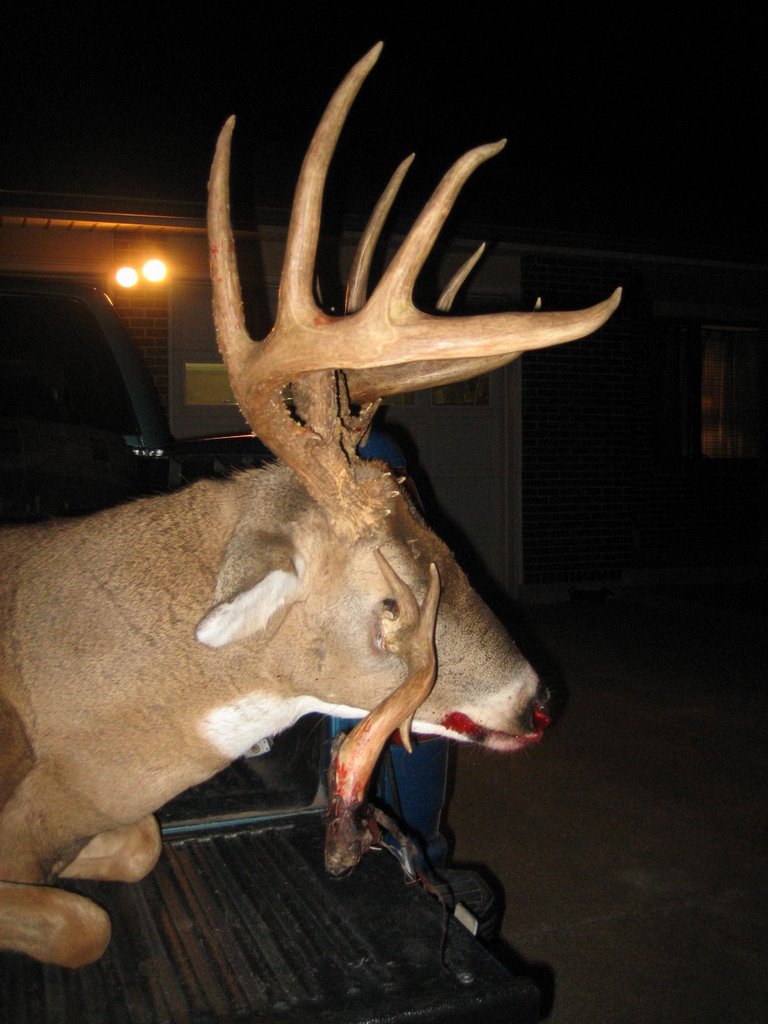 He called his friend Clarence Cooper of Paola to give him a hand. He also got in touch with Jeff Fraka, official Pope & Young scorer of white-tailed deer antlers. He was trying to explain to Fraka about the extra antler and Fraka broke in with:
"I know just what you are talking about. I've got a picture of him!"
Naturally Covell couldn't believe it, but when Fraka e-mailed him a picture he had gotten on his Cuddeback trail camera in 2006, he believed.
"I would think it was the same deer," Covell said. "The one Fraka had a picture of had a growth of some kind in the same area as the one I took."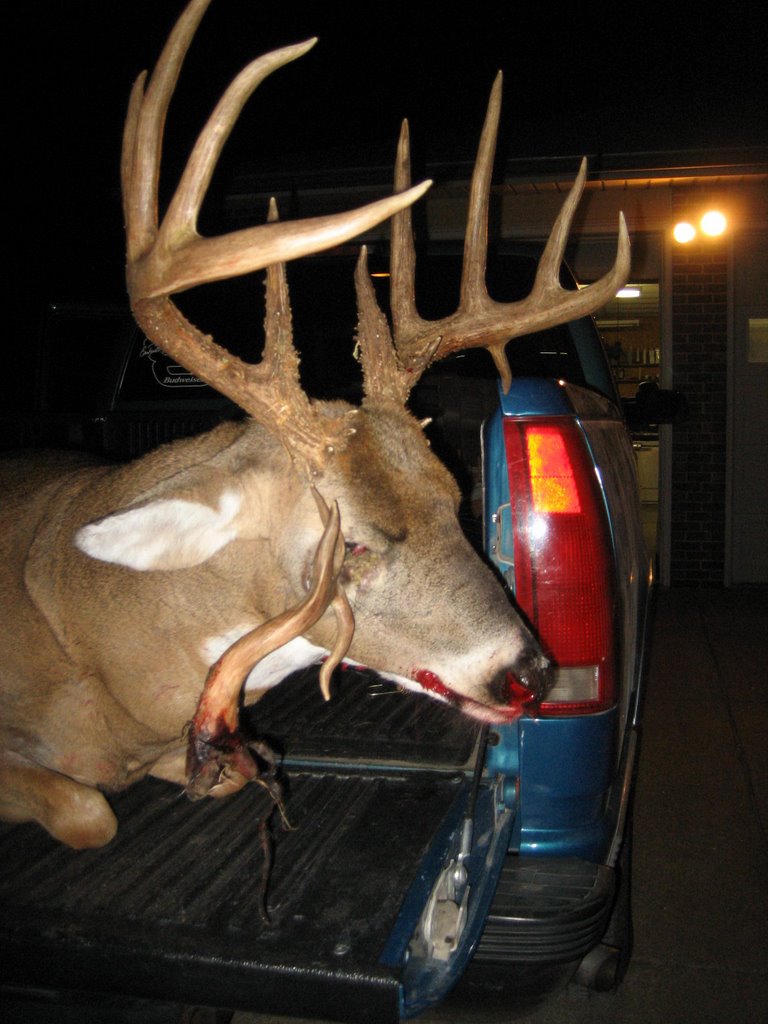 "I have a mineral lick the deer visited for four years before relocating to where Rex took him," Fraka said. "I really believe the minerals help all deer in developing larger antlers. I can't explain this abnormal antler from below the eye, though."
A third antler may be scored, Fraka said, it's just put in the abnormal (scoring) column.
"I was really wanting to have a whack at him," Fraka said, "but I never saw the deer where he hung out for four years from my tree stand. I had at least 75 pictures of him in different stages. He green-scored at 192 4/8 inches non-typical.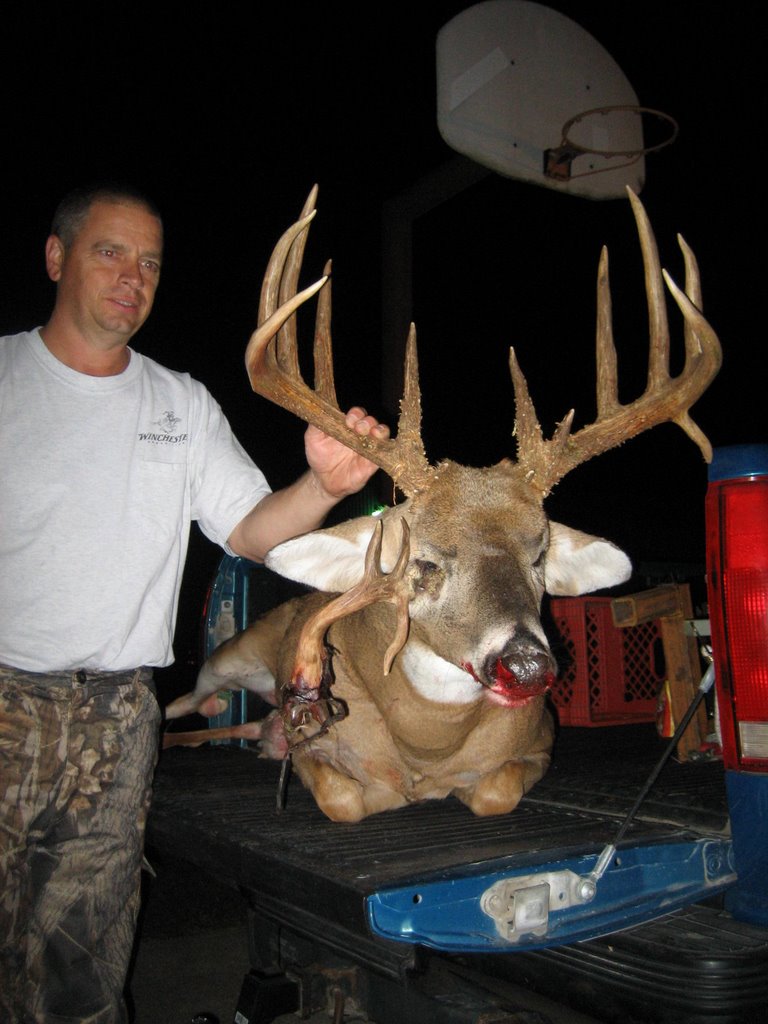 I'm 90 percent sure this is a deer that was known to me as Boneface. He had disappeared from where I had a few Cuddeback pictures of him last year in velvet in August. He was not quite finished growing in the velvet photos. If this isn't him we sure have some freak nasty genetics running rampant here in Miami County, Kansas."
"Rex is very fortunate and a very serious deer hunter," Fraka added. "I know a lot of people doubt it is true. I guess they are just the negative type."
"By far it's my biggest one ever," Covell said. "I guess he would have weighed between 250 and 300 pounds."
Of course he is having the head mounted. It will be available for display when the mounting is completed.