When is the white-tailed deer rut in South Texas? If this question has crossed your mind then chances are you're headed south into the Texas Brush Country some time soon. South Texas offers a unique hunting experience for white-tailed deer because of it's semi-arid habitat and the big bucks found living there.
Hunting in South Texas
South Texas is so different that the bulk of the whitetail's range. Most of the habitat is scrub-brush with the dominant hardwood species being Mesquite, which will not accommodate a climbing stand, but possibly a ladder stand in a few cases. Most of the deer hunting is done from elevated blinds (to see over the brush) with rifles, while bow hunting is from ground blinds. Hunting ranches will use spin-feeders, sometimes food plots and most will corn the roads, or as they are referred to down there, senderos.
Hunting the rut is a sure-fire way to up your chances of deer hunting success, especially in South Texas. It's thick, unforgiving country so it takes something really special to draw those big, mature bucks out of the thorny cover, which consists of mesquite, huisache, black brush, and of course prickly pear cactus. But all that brush is good food when it rains, so expect mature bucks to sport a large body as well as large antlers.
South Texas Deer Rut
Breeding in white-tailed deer varies with latitude and photoperiod. South Texas has the latest rut in Texas, which is not surprising considering it's at the lowest latitude and it takes until late in the fall to get the mercury dropping down there. Breeding (conception) dates for white-tailed deer ranged from November 9 to February 1 during the 3 years of a whitetail breeding/rutting study.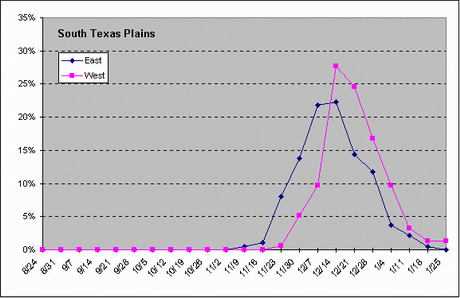 In the eastern part of South Texas the peak breeding date, i.e. THE RUT, was December 16, while in the west it was a little later, December 24. The pregnancy rate of does was 95 percent and there was an average of 1.5 fetuses for each sampled doe. The majority (90%) of the fawns are born by July 19 in the eastern area and by July 25 in the western area.
Best Time to Hunt
To wrap up, the South Texas deer rut peaks around mid- to late-December. Hunters can expect to see the most breeding, chasing activity by bucks at this time of year on an annual basis. The peak of the breeding season is the time to be deer hunting anywhere, but especially in South Texas. The region is filled with properties that have implemented deer management practices and good bucks are harvested there year after year.