Hunters dream of one day harvesting a free-ranging monster buck, but many people never dream that they will save one. Furthermore, I doubt many ranches would go above and beyond to save a wild buck, unless, of course, that ranch is the legendary King Ranch in South Texas and that buck happens to be of the 280-290 Boone and Crockett variety. Texans are known for doing things big, so why not save this big buck on one of the biggest ranches in the state?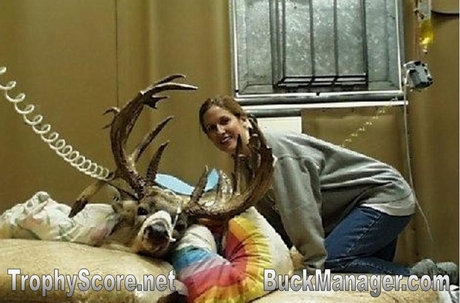 There was rumor earlier in the week that a large Texas buck had been treated at the Texas A&M University Veterinary Center, but I really didn't hear any specifics. However, I received news that the buck was found trapped in a barbed-wire fence and hung by his back leg, which was broken.
I don't have the entire story, but apparently the huge buck was transported via helicopter (presumably after sedation and legal clearance) from the King Ranch in south Texas to Texas A&M University in east-central Texas (College Station) where it was treated. The buck, once stabilized and prepared for life back in the wild, was then flown back to the ranch and released.
The buck is estimated to have a gross score of about 290 Boone and Crockett inches. Thanks to TrophyScore for sending the photos!