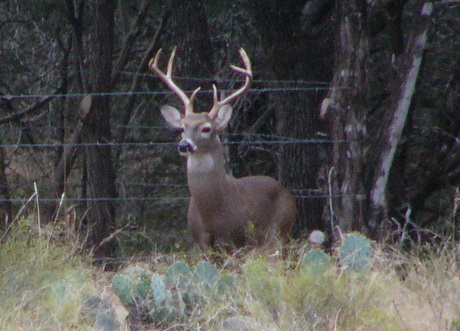 The general season for white-tailed deer hunting opened across most of Texas in the north and central zones this past weekend, sending tens of thousands of hunters to the field in what has become an annual rite of fall stretching back many generations. Texas Parks & Wildlife Department field biologists reported a lot of hunter and staff activity across the state, although much of the data and numbers won't be available until later in the week.
For example, a biologist in central Texas stated:
"After five years of working that locker, I can say that overall it was about an average weekend. There was warm weather, and a lot of folks saying they weren't seeing deer – it was too hot. There's still just tons of acorns on the ground, keeping many deer under cover since they don't need to come out to other food sources, so I'm surprised it went as well as it did with the warm weather. Deer were in good shape physically; we saw some nice bucks. We were working in some antler-restriction counties, and we were hoping to see some older deer, and we did. Most people seemed to be pleased with the restrictions, some saying they're seeing bucks on their property for the first time ever."
Biologists in East Texas counties stated that, overall, it was fairly slow. Opening weekend turned out hot, deer activity was down, and harvest was maybe a little below average in the southern end of the Post Oak Savannah. Now, antler quality was maybe a tad above average. Harvest was still dominated by younger animals, mostly yearlings and two-year-olds. But antler quality of those classes, as well as the few older bucks that came in, seemed to be pretty good, probably a result of all that good summer rain."
Although warm weather may have challenged Texas deer hunters on opening weekend, good habitat conditions and generally strong deer populations statewide mean that cooler weather coming this week could mean good hunting ahead this fall. Get out there!