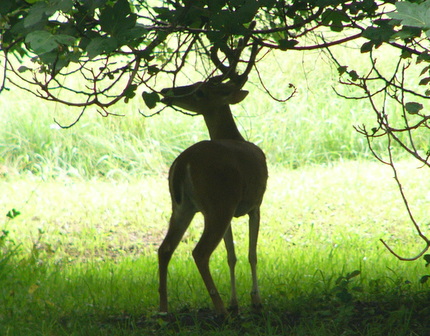 It is commom knowledge that deer need food, water, shelter and space for survival. When a casual observer sees the countryside with abundant trees and plants it may appear that deer have plenty to eat. But that is not necessarily the case. First, some plants are not edible. Second, some plants are not palatable. And lastly, some are only availalbe at certain times of the year. White-tailed deer use three major plant groups as food.
They are: 1) forbs, which consists of broadleaf herbaceous weeds, 2) browse, which consists of leaves and tender twigs of woody plants, and 3) grasses. Deer flat-out prefer forbs, but these plants are normally available only in certain seasons and if rains do not come at the right time, they may not be available at all.
Contrary to popular belief, deer consume only a very small amount of grass and usually only when it is young and tender. Because both deciduous and evergreen woody plants are readily available, browse tends to be the most stable source for white-tailed deer over much of the deer's range.
Of course, among browse plants, deer have definite preferences. The land/deer manager who understands those preferences and the seasonal browse habits of deer can judge the success of management practices aimed at improving rangeland for the production of high-quality white-tailed deer.
The nutritional status of deer is determined by the palatability, availability, and quality of the food supply, Palatability is the combination of characteristics (tenderness, taste, smell, etc.) that influence an animal to eat a food. Palatability has the most to do with an animal's preference for certain food items until the availability of those foods decreases. At that point, a deer's diet is determined more by what food is available.
The availability of food, of course, is dependent upon the current year's production on forage (as influenced by rainfall) and the intensity of browsing by herbivores. Supplemental feeding, either through protein pellets or food plots, increases the availability of forage. However, food plots also depend upon rainfall unless irrigation capabilities exist.
Food quality, the final factor, is typically expressed as crude protein and digestibility. These measures reflect the nutritional value of food. Some people believe that deer and other animals have a natural instinct for identifying and consuming forage plants that are the most beneficial from a dietary standpoint. This controversial concept is known as "nutritional wisdom." It implies that an animal knows what it needs to eat in order to maintain a high level of nutrition.
There is no scientific proof to support this contention and I personally don't subscribe to this line of thinking. I believe deer, like people, learn through trial and error. If a deer takes a bite of a plant and it taste good, they eat more. Otherwise, on to the next plant.