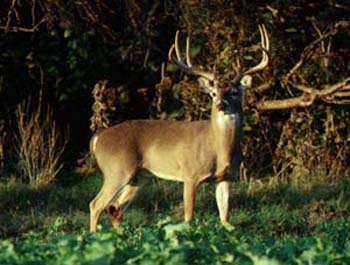 The white-tailed deer is the most popular big game species in the United States. Landowners and ranch managers are becoming more interested in intensive deer management strategies including supplemental food plots in order to conserve and further enhance deer populations, in some cases in areas with rapidly decreasing amounts of deer habitat. The establishment of supplemental food plots can be an important deer management strategy which has become widely accepted throughout the southeastern part of the U.S. out to east Texas.
However, it should be noted that most plot plantings are not aimed at improving nutrition of white-tailed deer despite the fact that much of the southeastern deer range provides substandard nutrition for quality deer production. This is compounded by the fact that often times the number of deer (deer density) is greater than the number of animals the habitat can support under optimal body and antler growing condition.
The use of supplemental food plots as an intensive management tool evolved from hunters' efforts to concentrate deer in one area for harvest. Thus, it is important to distinguish between "food plots" and "hunting plots," although they could be one in the same assuming the plot provides real nutrition for animals not harvested. Keep in mind that it is just as important to use plots to improve nutrition of whitetails and add critical minerals, particulary calcium and phosphorus, to the diet of a deer herd.
In the southeast U.S., the amount of rainfall is sufficient to produce consistent crops of supplemental forages. However, abundant rainfall is a mixed blessing when managing for deer habitat as it quickly leaches nutrients from the soil, which lowers the quality of food supplies. But because of rainfall, combined with proper fertilization, the planting food plots is a sound component in managing white-tailed deer in this area. Where rainfall is less abundant or where semi-arid conditions exists, food plots may not be feasible on a yearly basis unless a local water supply is available. Keep these general concepts in mind when thinking about your next food plot endeavor.