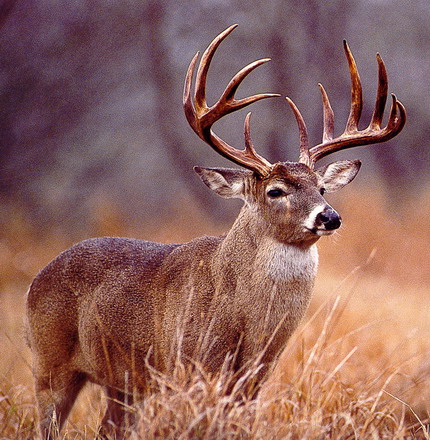 The harvest rate of bucks will be dependent on the objectives of the land manager. One of the concerns of many first-time and veteran deer managers is the age structure of the buck segment of the population. If one of the deer management objectives is to produce bucks with larger antlers, bucks must be allowed to reach older ages, which means that the harvest of young, immature bucks should be heavily restricted.
Restricting hunters to mature bucks only is a good management strategy to harvest old bucks, but does not address inferior bucks that are young or middle-aged. As a result, these deer must be carefully removed. Deer body characteristics, in addition to antler characteristics, should be used to determine the relative age of bucks "on-the-hoof." Let's discuss two different management strategies for the buck segment of your deer population.
Under an "optimum" management strategy, 30% to 33% of the estimated buck population is harvested annually to allow for a generally acceptable level of hunter success while restricting pressure on bucks that allows a portion of the buck population to reach older age classes.
Under a "quality" management strategy, the total buck harvest is restricted to 20% or less of the estimated buck population.  This limited harvest will result in lower hunter success rates, but will permit a significant portion of the buck population to reach maturity (4 1/2 years old and older) and increase the proportion of bucks in the population.  This strategy, understandably, has only limited success on smaller tracts of land where hunting pressure on surrounding lands is moderate to heavy. 
Of course, the total number of bucks under either strategy includes mature bucks, middle-aged culls, and young cull bucks. A cull buck on your property may not be the same as a cull buck on another property. The term "cull" is relative to what is available. However, a good rule of thumb in to harvest spike antlered (or even 4 points and less) bucks to remove poor quality bucks from the herd at an early age. Believe it or not, many yearling (1 1/2 year olds) bucks have 8 points or more on their first set of antlers! 
Also, focusing hunting pressure on inferior bucks will reduce harvest of better quality bucks, which will impact the genetics of your breeding deer herd.