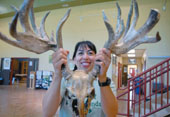 This Lake Waco non-typical monster scored 224 2/8 Boone and Crockett points. The buck's head and antlers were found by a woman looking for a place to fish near the lake. Lucky for us, drought conditions exposed the record-setting pair of deer antlers that can be considered a genuine wonder of nature. They are the largest antlers on record found in McLennan County, Texas, according to the Boone and Crockett Club.
The antlers were actually discovered in December 2005 by Cindy Parongao, a U.S. Army Corps of Engineers volunteer, while she was searching for a new fishing hole near the twin bridges area on the south side of Lake Waco. The land surrounding the lake is protected from hunting and this allows deer to live longer and grow larger antlers.
Based on a set of thorough measurements by Boone and Crockett officials, the antlers scored 224 and two-eighths points, making them the 21st largest on record in the state of Texas since the 1830s. If you are in the area, the antlers will go on display in a couple of weeks at the Lake Waco Wetlands Research and Education Center, 1752 Eichelberger Crossing Road.