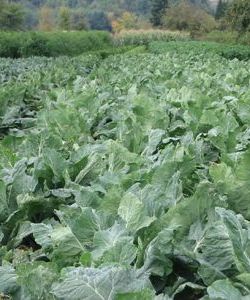 Food plots have become widely used deer management practices, but not all plots are created equal. Cool-season (fall and winter) food plots for white-tailed deer are not as susceptible to drought or weed competition when compared to warm-season (spring) food plots. This fact holds true for cool season food plots found throughout the whitetail's range in most cases. One exception may be legumes, which may require delayed planting if rainfall is deficient in the early fall months of September and October. Cool-season plant species can be planted on either upland or bottomland sites because of cooler temperatures and increased water availability during fall and winter periods. 
Cool season forages commonly consist of oats, rye, ryegrass, wheat, arrowleaf clover, sweetclover, subterranean clover, Austrian winter peas, and brassicas. Various seed companies provide a plethera of cool-season seed mixes that incorporate a number of plants into a single food plot mix. And speaking of food plot mixes, I recommend that landowners never plant food plots with a single plant species, especially in new food plots or where low input from the landowner is expected. Although at least 2 plant species are suggested in fall and winter food plots, I recommend that spring plots contain a minimum of 3 plant species.
A variety of plant species will ensure that not all of your eggs are in one basket. If you research the recommended whitetail forage plants for your area, then choose several of those, the potential success of your food plot goes up dramatically. This is especially true if you go with a low cost food plot and do not plan on investing in a soil test or fertilizer for your plantings. However, a soil test and appropriate fertilizer and liming as recommended by that soil test is highly recommended for optimal results.      
Although commercial food plot seed mixes are readily available, you can also mix up your own concoction after doing some research and heading down to your local feed store or seed dealer. Seed mixes, regardless of whether they are purchased commercially or home-made, these are often good choices because with the variety of seeds in the mix at least some of them will be very conducive to the soil type where your food plot is found. Though seed and forage research on your part can help your food plot, always get a soil test and perform the necessary measures to ensure your planting under optimal conditions. Otherwise, you likely will be wasting time and money. Deer management is not just about food plots, but they can be an important component in providing the animals found on your property with supplemental forage.